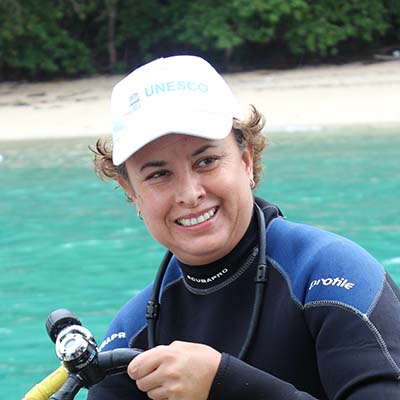 Arqlga. Helena Barba Meinecke
México
Arqlga. Helena Barba Meinecke
Themes of special interest – Protection, Conservation, Research and Dissemination of Underwater Cultural Heritage, Prehispanic navigation in the Yucatan peninsula and Caribbean, Public Archaeology, Maritime Archaeology and Capacity-building
Professional biography
Hlena Barba Meinecke is Mexican Archaeology graduate of the National School of Anthropology and History of the National Institute of Anthropology and History (INAH). Research Professor Titular "A" attached to the Sub-Directorate of Underwater Archeology (INAH) in Mexico.
Since 2003 she is a researcher responsible for Underwater Archeology for the Yucatan Peninsula, Vice Director of Underwater Archeology of the National Institute of Anthropology and History.
Coordinator of the projects: Integral for the protection, conservation, research and diffusion of the underwater cultural heritage of the Yucatan peninsula and underwater archaeological Atlas of cenotes, flooded caves, semi-flooded and other bodies of continental water of the Mexican Republic.
Since 2013, he is the representative of Mexico at the meeting of States Parties to the Convention for the Protection of the Underwater Cultural Heritage 2001 of UNESCO, serving as President during 2016 of its Scientific and Technical Advisory Board (STAB).
Participant of the courses taught in Underwater Archeology by: the Nautical Archaeological Society in Campeche (2003 and 2010) and by the National Museum of Archeology of Spain (ARQUA) in 2011.
Professional scientific and cave diver by the CEMAS, as well as Divemaster by the Professional Association of Diving Instructors.
She has participated in various national and international academic forums on underwater archeology, is the author of scientific and popular articles, as well as book coordinator.
Curator of the Museum of Underwater Archeology in Campeche, as well as various permanent and temporary exhibitions related to underwater archeology, navigation and karstic formations, as well as organizer of events and courses at national and international level related to the capacities-building around to the underwater cultural heritage.
He was Head of the Projects Department for the National Archeology Coordination of the National Institute of Anthropology and History (INAH) between 1994 and 2001. He participated as Field Chief in various archaeological projects developed in the State of Campeche.
Currently studying the master's degree in Underwater Archeology at the University of Cádiz, Spain.