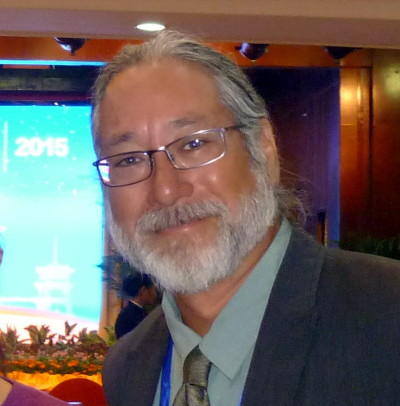 Hans K. Van Tilburg
U.S.A
Maritime Heritage Coordinator/NOAA
Special interests – Cultural Resource Management, Public Archaeology, Tribal and Indigenous Cultural Heritage, Asia Pacific Region
Hans was originally introduced to the ocean on board his father's sloop Brunhilde at the age of eight, and started to dive at the age of 11 in 1972. Since then he has worked as a carpenter and also a sport diving instructor, commercial diver, and a science diver in California, North Carolina, Louisiana and Wisconsin. His first experience with underwater archaeology came during a summer university field course in Lake Superior, Wisconsin. Hans was a geography major and science diver at the University of California Berkeley (BA 1985), worked in the diving safety office while in East Carolina University's Maritime History and Nautical Archaeology program (MA 1995), and ran a graduate program in maritime archaeology and history while at the University of Hawai`i studying Asian and Pacific maritime history (PhD 2002). Hans has taught numerous university courses in maritime archaeology, world history and maritime history. He has edited readers and proceedings, authored reports, contributed chapters, and published over 30 articles and book reviews, as well as several books.
Hans is currently the maritime heritage coordinator for the U.S. National Oceanic and Atmospheric Administration (NOAA) in the Pacific Islands region, as well as a NOAA unit diving supervisor. NOAA supports the Maritime Heritage Program, a national effort to discover, interpret, and protect significant underwater cultural resources under U.S. federal jurisdiction. In this role he has served as principal investigator for over 30 UCH site projects throughout the Hawaiian archipelago, American Samoa and Alaska, including diving, ROV and manned submersible operations.
Internationally, Hans has served as a consultant for UNESCO's intangible cultural heritage program (Chinese watertight bulkhead technology), as well as co-instructor for multiple UNESCO UCH Foundation courses in Thailand and Jamaica and Sint Eustatius, and has assisted with UCH management courses in Taiwan. Hans contributed to several chapters in the UNESCO Underwater Cultural Heritage Foundation course manual. He has also served as chair and co-chair for the Asia Pacific Regional Conference on Underwater Cultural Heritage "APCONF" (Honolulu 2014, Hong Kong 2017), and chair for the Symposium on Maritime Archaeology and History of Hawai`i and the Pacific (1996-2018).