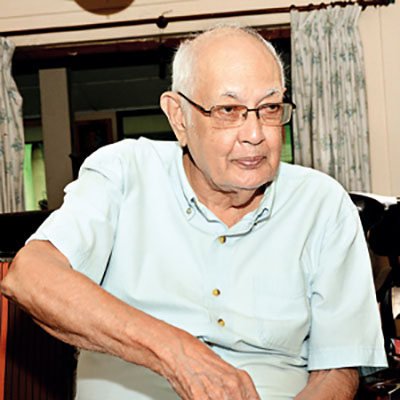 Somasiri Devendra
Sri Lanka
Somasiri Devendra
Themes of special interest – Maritime Archaeology, Vernacular watercraft, Naval and Maritime History
Professional biography
After graduating from the University of Ceylon (1955), and after a working life of 30 years, Somasiri Devendra decided to devote his energies towards the introduction of Maritime Archaeology to Sri Lanka, starting in 1986. For the next 18 years he headed every maritime archaeological activity in Sri Lanka, starting with the "Sri Lanka-British Colombo Reefs Archaeological Survey conducted jointly with Mark Redknap of the National Museum of Wales in 1989 and culminating in the "Avondster" excavation in Galle (2001-2004).
He was a member of the original ICOMOS steering committee (headed by Graeme Henderson) to set up an ICOMOS Scientific Committee on Maritime Archaeology, which later became ICUCH, and hosted the first meeting of the Committee (after its formation) in Colombo, 1993. Participated in drafting the ICOMOS Charter on the UCH (adopted in 1997); and in formulating the draft UNESCO Convention. He served as a UNESCO team member to Regional Conferences on the Convention in Kingston, Jamaica (2002), Maputo, Mozambique (2003) and Hongkong (2003). Conducted a 3-day meeting of ICUCH in Galle, Sri Lanka, (2007) and delivered the Keynote Address at the UNESCO Asia-Pacific Meeting of experts at on the Underwater Cultural Heritage at Closenburg Hotel, Galle, Sri Lanka, on 9th.April, 2007. He worked as Training Coordinator for the first UNESCO Field School for Training of Trainers (Asia-Pacific) in Maritime Archaeology, (March to May), 2006 and was chief academic organizer of the University of Kelaniya, the local partner of the UNESCO (Asia-Pacific) – ICCROM – Flinders University, Australia – Asian Academy of Heritage Management (AAHM) international Field School in Galle in April 2007
Within Sri Lanka he has conducted explorations, seminars, conferences, worked hard (but unsuccessfully) to establish a legislative framework for protecting the UCH, researched and popularized the study of maritime history and archaeology. He also worked to prevent the building of a military air base close to a World Heritage site (Sigiriya), the expansion of a commercial port adjoining another World Heritage site (Galle) and to stop an ill-conceived maritime archaeological excavation of an ancient shiowreck site (Godavaya) side-lining all local archaeologists in the country.
He has served as Terrestrial and Maritime Archaeologist on Feasibility and Environmental Impact Assessment of three major Port Development Projects (Galle, South Colombo and Hambantota).
He was awarded a Junior Research Fellowship by UNESCO and the the Uruma Prasada Pranamaya (Guardian of the Heritage Award) by the Minister of National Heritage for services rendered towards the Protection and the Development of the National Heritage.
While not engaged in any field work now, he continues to research in the areas of Maritime History, Naval History and Indigenous watercraft.